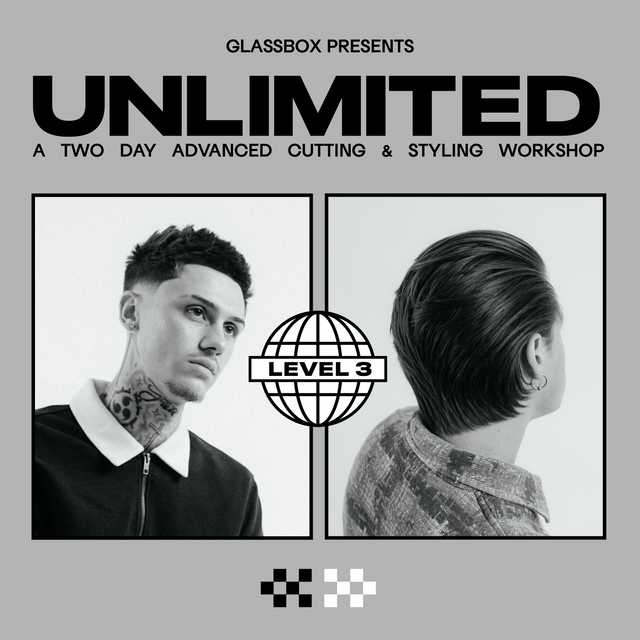 LEVEL 3: UNLIMITED

DURATION: 2 days (Sunday – Monday)
TIME: 10am – 4pm        
PRICE: $1000 +HST (group and/or salon packages avail upon request)  
Blitz pricing currently available- 50% Off!      

A cutting course focusing on the latest global hair trends while keeping students up to date with current cutting techniques that can be taken back to the salon and used daily. Our Glassbox educators will teach students how to create the current looks on a variety of lengths and textures using different cutting, texturizing, and styling techniques. 

This 18-hour course is a well-rounded program that focuses on salon friendly services and enhancing your skills. Unlimited will help you build the confidence for a fool-proof consultation and strengthen your technique.
This will allow you to increase your speed and assertiveness behind the chair during your day-to-day, uplifting your guests' experience and your reputation which will allow you to adjust your prices accordingly.

LEARNING FOCUS
Interactive workshops incorporating practical salon techniques on all styles and textures
Product application
Working on current looks
Blow dry tips & tricks on different hair types
Using different texturizing techniques
Understanding technical head sheets
Business mindset 
Building your team 
Building clientele
YOU WILL NEED 
Cutting Scissors
Clippers: Big & Small
Cutting Comb
Clipper Comb
Brushes
Blow Dryer
*Tools are not included. Tools can be suggested if you are unaware and need assistance, as well we sell tool packages for each student
For more information, please contact us: education@glassboxbarbershop.com
DAY ONE
 DAY TWO
Introduction & Greeting
Morning
LECTURE
Intro
LECTURE
Live Demo
Live Demo
Lunch
Lunch
Graduation & Fading
LECTURE
Mannequin Demo & Layering
LECTURE
Mannequin Demo
Practical Session
Practical Session
Evaluation + Q & A
Evaluation + Q & A
 
COURSE REFUNDS
Due to limited seating, we request that any cancellations are requested at least 14 days before the scheduled class. This gives us the opportunity to fill the spot. If cancellation is outside of the 14 days, we may issue you a credit, but do not offer refunds. You may use these credits towards a future class.

Cancellations made within 14 days or more, in advance of the event date may be used as a credit towards future class and will not incur a cancellation fee.

Cancellations made within 3 - 14 days of the course start will incur a 20% fee. Cancellations made within 48 hours to the event will incur a 30% cancellation fee.